The Academic Minute for 2017.2.13-2.17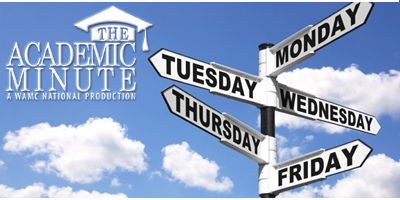 Academic Minute from 2.13 – 2.17
Monday, February 13th
Akira O'Connor – University of St. Andrews
Deja Vu
I am interested in how contextual information and our expectations help (and hinder) the judgements we make about our memories. My research employs laboratory, online and neuroscientific experiments. In my spare time I enjoy running – I am a member of Leven Las Vegas running club.
Tuesday, February 14th
Ryan Kelly – University of Washington
Influential Science and Storytelling
Trained as both an ecologist and a lawyer, Ryan Kelly has a broad set of interests, focused both on hard scientific data and policymakers' use of those data. From the science side, he studies the interplay between geography, ecology, and genetics in marine species. His more applied research joins genetic and ecological research with real-world implementation in law and policy, particularly with respect to environmental monitoring, resource management, endangered species, and ocean acidification. In general, he is drawn to projects that have significant elements of both scientific and policy relevance as we work towards more sustainable use of marine resources. Dr. Kelly received his Ph.D. in Ecology, Evolution, and Environmental Biology from Columbia University, and his JD from University of California, Berkeley, School of Law.

Wednesday, February 15th
Kevin Caskey – SUNY New Paltz
Manufacturing and Skiing
Dr. Kevin R. Caskey is Professor at SUNY New Paltz teaching Operations Management, Statistics, and Project Management, and a ski patroller at one of New York's state owned resorts.
Caskey consults in the areas of smaller firm manufacturing, project management, and building research consortia with corporate and academic participation.
Before New Paltz, Caskey was a research manager and scientist at the Technical University of Eindhoven in the Netherlands, a research scientist at the Bremen Institute of Production Technology in Germany, and a simulation specialist at Boeing Computer Services, in Seattle.
Caskey holds a Doctorate in Industrial Engineering from the University of Washington. He also holds a MSc in Operations Research from the University of British Columbia, a MS in Industrial Engineering from Stanford University, and a BS in Industrial Engineering from Northeastern University.
Thursday, February 16th
Zvi Loewy – Touro College of Pharmacy
Cannabis and Parkinson's Disease
Dr. Loewy has a diversified professional background that includes more than 30 years in academia, executive leadership with major global pharmaceutical companies, and creation and management of biotech startup companies.
Dr. Loewy is a graduate of Yeshiva University (B.A.), Rensselaer Polytechnic Institute (M.S.) and the Albert Einstein College of Medicine (Ph.D.).  In addition to his position at Touro College of Pharmacy, he is on the faculty of New York Medical College and serves on the boards of the Jerusalem College of Technology and the New Jersey Technology Incubator.
Dr. Loewy is a member of the scientific advisory board of C3 Jian, a private company focused on providing improved oral health care.  He is a member of the steering committee of the Pennsylvania Translational Research Partnership Institute and the Coulter advisory council, and he is an editor of the Journal of Prosthodontics.  Dr. Loewy has published broadly and holds over 25 patents.
Friday, February 17th
Dale Fink – MCLA
Recess
Dr. Fink came to MCLA in 2006 after a career spanning 35 years in childcare, early childhood education, out-of-school time care, and research and training related to children with disabilities and their families. Among his books are Making a Place for Kids with Disabilities (2000) Control the Climate, Not the Children: Discipline in School Age Care (1995), and a children's book, Mr. Silver and Mrs. Gold (1980).
He spent a dozen years as a teacher and administrator in preschool and school-age childcare settings in the Boston area, followed by eight years at the Wellesley College Center for Research on Women as part of a national project conducting training and research related to "latchkey children." He edited a nationally circulated newsletter during those years, and designed and conducted training for audiences that included school principals and superintendents, as well as front-line afterschool childcare staff. In 1990, Dr. Fink became the first-ever recipient of a World Institute on Disabilities grant to study the inclusion of children with disabilities in childcare.