The Academic Minute for 2017.1.30-2.3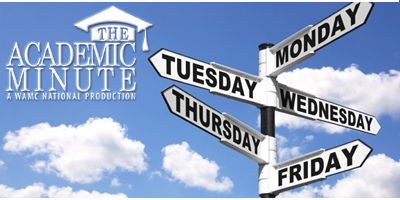 Academic Minute from 1.30 – 2.3
Monday, January 30th
Rob Blair – Brown University
Trust in Government and Health
Robert Blair is an Assistant Professor of Political Science and International and Public Affairs at Brown University. His research focuses on international intervention and the consolidation of state authority after civil war, with an emphasis on rule of law and security institutions. He has conducted fieldwork on these and related topics in Colombia, Liberia and Côte d'Ivoire. He has also worked in various capacities for the the UN Office of Rule of Law and Security Institutions, the US Central Intelligence Agency's Political Instability Task Force, Freedom House and the Small Arms Survey. He holds a B.A. from Brown and a Ph.D in political science from Yale University. His research has been published in the American Political Science Review, the Journal of Peace Research, Social Science & Medicine, BMJ Global Health and other venues.

Tuesday, January 31st
Matt Fotis – Albright College
Political Satire in the Age of Post-Truth
Matt Fotis is an Assistant Professor and Co-Chair of the Theatre Department at Albright College where he teaches improvisation, acting, and writing for performance. Additionally he serves as the advisor/artistic director for Albright Improv and The Children's Theatre of Albright. He received his PhD in Theatre from the University of Missouri, where he was a Raymond White Dissertation Fellow. He holds a Master of Arts from Illinois State University where he received the James L. Fisher Outstanding Thesis Award from the College of Fine Arts, and a BA from Monmouth College. He is the author of Long Form Improvisation and American Comedy: The Harold, which garnered him The Dr. Henry P. and M. Page Laughlin Distinguished Faculty Award for Research, and The Comedy Improv Handbook. In addition he has published or presented on various topics, including improvisational theatre, new play development, political theatre, arts administration, solo-performance, folklore studies, popular culture studies and more. His work has appeared in Theatre Journal, Theatre Topics, The Journal of American Drama & Theatre, The Encyclopedia of Humor Studies, The Encyclopedia of American Studies, and MLB.com among others. He has won numerous awards in various fields and pursuits, but balances these accolades with his social awkwardness.

Wednesday, February 1st
Michelle Ouellette – SUNY Plattsburgh
Fake News, Zika and the Power of Awe
Michelle Marasch Ouellette's work is focused on crisis communication, with an emphasis on the use of social media in public-safety emergencies. She is the founder of the SUNY Plattsburgh Virtual Operations Support Team, designed to provide social media support to nonprofits and governmental agencies during crises. In addition, she is a member of the VOST Leadership Coalition and is on the committee helping to forge international standards. Previously she served as the director for public relations at SUNY Plattsburgh, where she was part of the team that established the college's social media presence, which, for a few years, included a Facebook page with more fans than any other school in the 64 campuses of the State University of New York System.Prior to that, Ouellette was public relations director with the second largest private employer in Essex County, New York. As the public information officer for both the college and what was at the time called Essex County ARC, she took the communications lead on a number of crises including student deaths, fires, protests (including one by the Westboro Baptist Church), disease outbreaks, union battles and the suicide of a CEO. Her recent article, "Prison Break: The Truth About Crisis Communications in a Social World," appeared in Public Relations Society of America's The Strategist.Previous presentations include ones on mediating college emergencies, the use of virtual support teams and optimizing social media efforts for public relations.
Thursday, February 2nd
Nathan Kunz – University of North Florida
Fast Disaster Response
Nathan Kunz is an Assistant Professor of Operations Management in the Coggin College of Business. He holds a PhD in Management (Operations Management) from University of Neuchatel, Switzerland and a Master of Science in International Business Development from the same university. His undergraduate degree was in Engineering (Automotive Technology).
Dr. Kunz joined UNF in Fall 2015, where he teaches courses in Operations Management. Before joining UNF, he was a Postdoctoral Research Fellow at INSEAD, France. He also worked as lecturer at the Swiss Federal Institute of Technology Lausanne (EPFL) and University of Neuchatel. Prior to his academic career, Dr. Kunz worked as Deputy Director and Director of Operations at the Digger Foundation, a Swiss charity manufacturing humanitarian demining machines.
Dr. Kunz serves as Secretary of the College of Humanitarian Operations and Crisis Management (HOCM) of the Production and Operations Management Society. He is also on the Editorial Review Board of the Journal of Operations Management (JOM) and the Production and Operations Management (POM) Journal. He is also member of the Editorial Advisory Board of the Journal of Humanitarian Logistics and Supply Chain Management (JHLSCM).
Friday, February 3rd
Aris Karagiogakis – Black Hills State University
Coloring Books and Art as Therapy
Dr. Aris Karagiorgakis is an Associate Professor of Psychology at Black Hills State University who conducts research in two areas: art as therapy and the effectiveness of art intervention programs.
His current research investigates the "active ingredients" in art-making that contribute to the reported therapeutic benefits (i.e., lower stress/anxiety levels). He is also investigating the effectiveness of an arts intervention program in an in-patient facility for adolescents with psychiatric illnesses.
In the past, he has conducted research on tipping behavior in bars, the use of social media as a teaching instrument in the classroom, and on police lineups and eyewitness identification procedures.
Dr. Karagiorgakis received his Ph.D. in Cognitive Psychology, with an area of concentration in Psychology & Law, from Claremont Graduate University in Southern California.