Michelle Ouellette, SUNY Plattsburgh – Fake News, Zika and the Power of Awe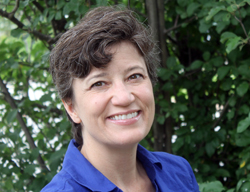 By now everyone has heard of fake news.  How do we avoid it?
Michelle Ouellette, assistant professor of journalism and public relations at SUNY Plattsburgh, explores how to get the real news out there and in front of readers eyes.
Michelle Marasch Ouellette's work is focused on crisis communication, with an emphasis on the use of social media in public-safety emergencies.
She is the founder of the SUNY Plattsburgh Virtual Operations Support Team, designed to provide social media support to nonprofits and governmental agencies during crises. In addition, she is a member of the VOST Leadership Coalition and is on the committee helping to forge international standards.
Previously she served as the director for public relations at SUNY Plattsburgh, where she was part of the team that established the college's social media presence, which, for a few years, included a Facebook page with more fans than any other school in the 64 campuses of the State University of New York System.
Prior to that, Ouellette was public relations director with the second largest private employer in Essex County, New York.
As the public information officer for both the college and what was at the time called Essex County ARC, she took the communications lead on a number of crises including student deaths, fires, protests (including one by the Westboro Baptist Church), disease outbreaks, union battles and the suicide of a CEO.
Her recent article, "Prison Break: The Truth About Crisis Communications in a Social World," appeared in Public Relations Society of America's The Strategist.
Previous presentations include ones on mediating college emergencies, the use of virtual support teams and optimizing social media efforts for public relations.
Fake News

Fake news winning out against real news? A 2013 study could have predicted it.
Conducted by a group of Chinese researchers, that study found that that the most viral emotion is anger.
And those fake news posts? They tend to specialize in making people mad.
In fact, a 2016 study of Facebook posts on the Zika virus found that, while the majority were factual, the most popular by far were those containing misinformation. One, calling Zika a "fraudulent hoax," had 20 times the number of shares than did the most popular useful post— a press release by the World Health Organization.
So — those seeking to do good in the world and to spread scientific fact — what are they to do?
First, stop ignoring emotions. As Jill Bolte Taylor said, "Although many of us may think of ourselves as thinking creatures that feel, biologically we are feeling creatures that think."
At the very least, we need to honor the emotions of our audience. After all, mental noise theory shows that stress can reduce a person's ability to process information by 80 percent. Showing compassion helps decrease that noise and increase the ability to listen.
Second, we need to consider the power of awe. A Wharton School study of the New York Times most shared articles showed that the second most viral emotion is awe.
The authors defined it as that which opens and broadens the mind. Examples included viewing the Grand Canyon, looking at art, hearing something profound.
I say, awe is what breaks us free from the prison of our own minds.
Now, figuring out how to harness that power for the good of our society is the next step.