Indranil Goswami, University at Buffalo – How to Boost Charitable Giving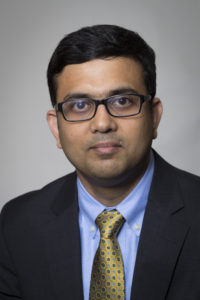 How much did you give in your last charitable donation?
Indranil Goswami, assistant professor of marketing in the University at Buffalo School of Management, explains why upping the default option could lead to higher donations for charities and non-profits.
Indranil Goswami, assistant professor of marketing in the University at Buffalo School of Management, teaches marketing research and studies pro-social behavior, choice architecture, judgement and decision-making, and motivation and self-control. His research has been covered by such media as The Wall Street Journal and Harvard Business Review.
Goswami joined the UB School of Management last year after completing a doctorate in marketing and an MBA at the University of Chicago. He also holds a post-graduate diploma in management from MICA in Ahmedabad, India, and a bachelor of engineering from the National Institute of Technology in Durgapur, India. Prior to joining higher education, Goswami worked in industry for Nielson Marketing Research and the Oracle India Development Center.
How To Boost Charitable Giving

When faced with a pre-selected option in a menu of choices, many of us tend to accept it. Known as an opt-out default, such an option can influence our decision to enroll in a 401(k), become an organ donor or use eco-friendly products. However, these decisions involve simple yes-or-no choices.
In our research, we looked at how defaults affect charitable giving, which requires more complex decision-making. Potential donors must first decide if they want to donate and, if they do, how much to contribute.
The most popular U.S. charities seem apprehensive about using defaults — and high defaults in particular. More than half of Forbes top 50 charities do not use a default in their online fundraising. Of those that do, 86 percent suggest a low amount.
Our study revealed that nonprofits have nothing to lose by pre-selecting an amount. Across several studies with both hypothetical and real fundraising campaigns, we found that using a default did not reduce the total amount raised. Even when asked to contribute a large amount, donors did not have negative feelings toward the charity or donating in general.
With the right default, our findings indicate that charities can better achieve their fundraising goals. If charities want to grow their donor base, they should suggest a lower amount to encourage more people to join the cause. In contrast, when targeting a loyal group of donors, a high default could influence them to donate more than they would otherwise.
So, for fund managers, our advice is this: Don't be afraid to experiment with a default ask. Identifying the right default strategy will help your fundraising be effective and potentially raise more money overall.