The Academic Minute for 2017.1.9-1.13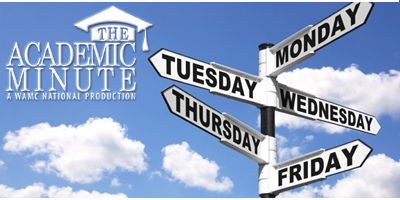 Academic Minute from 1.9 – 1.13
Monday, January 9th
Christina Frohock – University of Miami School of Law
Guantanamo
Professor Frohock earned her B.A. with Honors in Philosophy from the University of North Carolina and her M.A. in Philosophy from the University of Michigan. She earned her J.D. magna cum laude from New York University School of Law, where she was a member of the Order of the Coif and won the graduation award for excellence in Constitutional Law. She then joined Sullivan & Cromwell LLP in New York City as a litigation attorney. After moving to Miami, she practiced litigation at both White & Case LLP and Kenny Nachwalter, P.A.
Professor Frohock teaches Legal Communications and Research Skills and upper-level courses on Trial Strategies and Legal Issues in Guantánamo. Her scholarship focuses on Guantánamo, and she has given a variety of presentations at conferences and universities. Previously, she taught Constitutional Law at the University of Miami and advanced legal research and writing at Florida International University College of Law.
Professor Frohock is also actively involved in the community.  She helped found the Rosemary Barkett Appellate American Inn of Court, administered by the Third District Court of Appeal Historical Society, and served as an Inn officer for many years.  She belongs to several professional organizations, including the American Bar Association and the Federal Bar Association.
Professor Frohock is admitted to practice law in Florida, New York, the United States District Courts for the Southern District of Florida, Middle District of Florida, Southern District of New York, and Eastern District of New York, and the Supreme Court of the United States.
Tuesday, January 10th
Shannon Hinsa-Leasure – Grinnell College
Copper Reduces Infections in Hospitals
Shannon Hinsa-Leasure is an associate professor of biology and an environmental microbiologist at Grinnell College in Iowa. Her research interests include microbial diversity, antibiotic resistance and genetic exchange, as well as bacterial adaptations to varied environments.
She is currently investigating the ability of copper alloy materials to reduce bacterial loads in hospitals and fitness centers. Additionally, she is studying antibiotic resistance gene profiles on farms, in collaboration with researchers at Iowa State University and the Agricultural Research Service at the U.S. Department of Agriculture. As time permits, she continues her study of microbial diversity and biofilm formation in Siberian permafrost.
At Grinnell, Hinsa-Leasure teaches courses in microbiology, environmental microbiology, cell biology and microbial pathogenesis. She also maintains an active laboratory with undergraduate students.
Hinsa-Leasure earned her B.S. in bacteriology at the University of Wisconsin-Madison and her Ph.D. from Dartmouth Medical School in molecular and cellular biology.
Wednesday, January 11th
Christopher von Rueden – University of Richmond
Why Men Care About Status
Dr. Christopher von Rueden looks at leadership through the lens of anthropology.
An anthropologist with expertise in small-scale societies, his research focuses on status hierarchy, including how status is acquired, the reproductive and health consequences of status, how status differences and leader-follower dynamics contribute to group performance, and the effects of demographic and ecological change on status hierarchy.
At the Jepson School, he teaches courses such as Leadership in Cultural and Historical Contexts and Leadership and the Social Sciences.
In addition to his work on status, Dr. von Rueden has published journal articles and presented on topics such as why humans differ in personality traits, and why we have such unique life histories among primates.
Dr. von Rueden conducts ethnographic fieldwork with the Tsimane' forager-horticulturalists of lowland Bolivia. His work with the Tsimane' is part of a larger project (the Tsimane' Health and Life History Project) that investigates aging, health, and social behavior in a small-scale human population.
He is affiliated with the Santa Fe Institute and the Culture and the Mind Project.  He is investigating social networks in traditional human societies with the Santa Fe Institute and studying the effects of culture on moral cognition with the Culture and the Mind Project.
Dr. von Rueden received a doctorate in anthropology, with an emphasis in cognitive science, from the University of California, Santa Barbara and a bachelor's degree in anthropology from Harvard University.
Thursday, January 12th
Prashanth Rangan – University at Albany
Fruit Flies Offer Fertility Clues
Prash got his undergraduate engeneering degree in Industrial Biotechnology in India. While pursuing his undergraduate degree, he spent a summer rotation working in a virology lab which left an indelible mark. His work that summer focused on understanding the contribution of RNA structures to retroviral infections. He decided to pursue graduate studies working on viruses and RNA. But while attending graduate school, he was introduced to the book "The RNA World." Reading that book completely opened his eyes to the role of RNA in the origin of life and broadened his perspective. For his PhD., he studied how RNA folds to attain its final structure an important determinant for its function. For his Post-Doctorate fellowship, he chose to work on the germline, where it is known that RNA regulation plays a pivotal role. Prash's long-term goal for his lab is to bring together the two fields of RNA structural biology and developmental genetics. In his free time he love to cook elaborate dinners. One day he hopes to write a cookbook or open a small 5 table restaurant.
Friday, January 13th
William Rogers – Winthrop University
Dolphins
Dr. Rogers has taught biology at various levels since he was in high school in San Francisco, Calif. He has been at Winthrop for more than 20 years and before that taught at the University of California-Berkeley, Sonoma State University, Marin Community College, the California Academy of Sciences, and several other institutions. Originally interested in art as a career, his attention turned to biology at a young age and he has enjoyed exploring that area of inquiry ever since.
Rogers has taught a wide array of courses at Winthrop, from the freshman-level through graduate seminars. The specific undergraduate classes he has taught in the Biology major include "Principles of Biology," "Honors General Zoology," "Evolution," "Animal Behavior," "Ornithology Vertebrate Natural History," and the departmental capstone class, "Integration of Biological Principles." Graduate classes include "Recent Advances in Organismic and Developmental Biology," "Recent Advances in Evolutionary and Environmental Biology," and "Advanced Topics in Ecology/Evolutionary Biology."
In addition to teaching, Rogers has been active in the Department of Biology's Graduate Program and has been mentor to 25 graduate students of his own and has served on the thesis committees for many others. His students have done research on every group of vertebrates (fish, amphibians, reptiles, birds and mammals) as well as on some invertebrates including spiders and snails. In addition to working with graduate students, he has served as a research advisor to many undergraduates, guiding them in work on bees, fish, lizards, birds and mammals.
He has a long list of publications and invited presentations that extend back to his high school days and has published his own work on fish, birds, marine mammals, monkeys and several other groups. Presently, in addition to his research with graduate students, he works primarily on Amazonian freshwater dolphins, particularly the pink dolphin. His work takes him to northeastern Peru, where, in a quiet primary tributary to the much larger Amazon River, he and his students look at dolphin distribution, ecology and behavior, especially of mothers and their calves.
Rogers has served on several boards both within scientific and other organizations. He was a counselor with the South Carolina Academy of Sciences (1996-1999) and has been an adjunct professor at the University of South Carolina since 2008. Locally, he is on the Board of Directors for Operation Hummingbird and served as president of Historic Rock Hill from 1996-1998. He is a member of the Society for the Study of Evolution, the Animal Behavior Society, the American Association for the Advancement of Science, the National Center for Science Education, and several others.
Rogers served as a faculty marshal from 2005-2010 and was named as Winthrop's Distinguished Professor for 2002.