The Academic Minute for 2017.1.23-1.27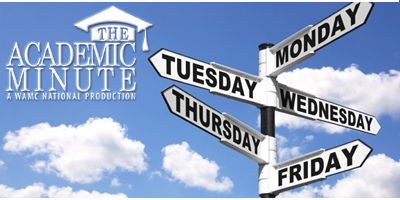 Academic Minute from 1.23 – 1.27
Monday, January 23rd
Arie Kruglanski – University of Maryland
The Psychology of Radicalization
Arie W. Kruglanski is a Distinguished University Professor, a recipient of numerous awards, and is a Fellow of the American Psychological Association and the American Psychological Society. He has served as editor of the Journal of Personality and Social Psychology: Attitudes and Social Cognition, editor of the Personality and Social Psychology Bulletin, and associate editor of the American Psychologist. His work in the domains of human judgment and belief formation, the motivation-cognition interface, group and intergroup processes, and the psychology of human goals has been disseminated in over 300 articles, chapters, and books, and has been continuously supported by grants from the National Science Foundation, NIMH, Deutsche Forschungs Gemeineschaft, the Ford Foundation and the Israeli Academy of Science. As a founding Co-PI and Co-Director of START (National Center for the Study of Terrorism and the Response to Terrorism), Kruglanski also conducts research with the support of grants from the Department for Homeland Security and from the Department of Defense on the psychological processes behind radicalization, deradicalization, and terrorism.

Tuesday, January 24th
Martin Krieger – University of Southern California
We Professors
Martin Krieger's current work is on defense and military policy, and on uncertainty and ambiguity. He has done social-science informed aural and photographic documentation of Los Angeles, including storefront houses of worship and industrial Los Angeles. Professor Krieger has won three consecutive Mellon Mentoring Awards, for mentoring undergraduates, faculty, and graduate students. Professor Krieger has worked in the fields of planning and design theory, ethics and entrepreneurship, mathematical models of urban spatial processes, and has explored the role of the humanities in planning. His nine published books describe how planning, design, and science are actually done. Professor Krieger has been a fellow at the Center for Advanced Study in the Behavioral Sciences and at the National Humanities Center, and is a Fellow of the American Physical Society. He has received grants from a variety of foundations, and has served as the Zell/Lurie Visiting Professor of Entrepreneurship at University of Michigan's Business School. He joined the USC faculty in 1984. Professor Krieger often helps doctoral students, as well as undergraduates and masters students, focus and formulate their research projects.

Wednesday, January 25th
Yong-Hui Zheng – Michigan State University
Natural Defense Against HIV
My laboratory focuses on retrovirus-host interactions using HIV-1, a human retrovirus that causes AIDS. In particular, we are interested to study natural host factors that have the ability to inhibit retrovirus replication. These host proteins are called restriction factors. Understanding the antiviral activity of these restriction factors has permitted the discovery of novel antiretroviral mechanisms, and holds the great promise of new antiretroviral therapies. During the past, we have demonstrated the anti-HIV-1 activity of human APOBEC3DE and APOBEC3H proteins, which belong to the APOBEC3 sub-family of cytidine deaminases. APOBEC3 proteins have very potent antiretroviral activity, but, unfortunately, most of them are neutralized by the viral protein Vif. Thus, a complex competition exists between the host cell and the virus that is driven by evolution.
A major effort in the laboratory is to discover new type of restriction factors. Recently, we reported that MOV10 has very broad and potent antiretroviral activities. MOV10, a putative RNA helicase, can be packaged into virions and inhibits viral replication at a post-entry step, resulting in 20- to 100-fold reduction of HIV-1 infectivity. In addition, we reported a novel HIV-1 restriction phenotype in a human T cell line CEM.NKR. Although these cells express normal levels of CD4 and CXCR4, they are highly resistant to HIV-1 infection. In fact, we found that they express an unknown restriction factor that potently inhibits HIV-1 replication.
Thursday, January 26th
Louis-Philippe Beland – Louisiana State University
Effects of School Shootings on Student Performance
Louis-Philippe is an assistant professor of economics at the E.J. Ourso College of Business at LSU. His research interests are in labor economics, public policy, political economy and education economics.

Friday, January 20th
Nicholas Leadbeater – University of Connecticut
Laughing Gas and Whipped Cream
Nicholas Leadbeater is an associate professor of organic and inorganic chemistry at the University of Connecticut, where he heads the New Synthetic Methods Group. Leadbeater and the NSMG research cleaner and more efficient methods for creating synthetic materials. Dr. Leadbeater holds a Ph.D. from Cambridge University, where he was a research fellow until 1999.