The Academic Minute for 2016.12.19-12.23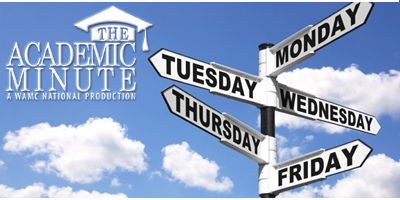 Academic Minute from 12.19 – 12.23
Monday, December 19th
Evelyn Johnson – Boise State University
Reading Disorders
Evelyn received her Doctor of Education degree from the University of Washington, Seattle in 1999 and holds the position of Professor of Special Education, and Executive Director of Lee Pesky Learning Center, a non-profit organization whose mission is to improve the lives of people with learning disabilities.
From 2003 to 2007, Dr. Johnson worked as a research associate for the National Research Center on Learning Disabilities (NRCLD), examining issues related to Response to Intervention (RTI) and Specific Learning Disabilities (SLD) determination. Dr. Johnson's work with the NRCLD includes the development of numerous technical assistance products to assist state and local educational agencies on Response to Intervention (RTI) and learning disability identification-related issues. This work has led to numerous collaborative research efforts, national presentations, and publications including co-authoring, RTI: A Practitioner's Guide to Implementation and How RTI Works in Secondary Schools.
Dr. Johnson's current research focuses in three main areas: 1) understanding the connection between information processing, executive functioning, and academic performance, 2) supporting schools in the implementation of intervention and instructional systems for students at-risk for or with learning difficulties, and 3) special education teacher evaluation. Dr. Johnson joined Boise State University in 2007, and lives in Boise with her husband and two children.
Tuesday, December 20th
Jeff Blaustein – University of Massachusetts Amherst
Estrogens and Breast Cancer Survivors
Jeffrey D. Blaustein, Professor in the Department of Psychological and Brain Sciences at the University of Massachusetts, is the Founding Director of the Center for Neuroendocrine Studies.  He received his BS and PhD from UMass in 1973 and 1977, respectively.  After two years doing postdoctoral research at Rutgers University and a first job at Iowa State University, he returned to UMass in 1983.
Blaustein's research group has published over 150 scientific papers and reviews, and he has delivered many lectures on his research around the world.  He has served as Editor and Editor-in-Chief of Endocrinology, the journal of the Endocrine Society.  He is an editor of eNeuro, the open access journal of the Society for Neuroscience.  He is also on the Editorial Board of a variety of scientific journals, including Frontiers in Neuroendocrinology and Hormones and Behavior, and he is a former President of the Society for Behavioral Neuroendocrinology.
Wednesday, December 21st
Shervin Assari – University of Michigan
Resilience Among Different Races
Dr. Assari is a Research Investigator with the Department of Psychiatry. He is also a faculty mentor at the Center for Research on Ethnicity, Culture and Health (CRECH), School of Public Health. His interest is in the intersection of community mental health and social epidemiology and focuses on the contextual effects of race, ethnicity, gender, and place in changing causes and also consequences of mood disorders.
Dr. Assari is an M.D. with post-graduate training in Public Health (M.P.H.) and postdoctoral training in health disparities. He has over 120 peer reviewed scientific articles published in highly influential journals. He is an Associate Editor for three psychiatry and medical journals (Frontiers in Psychiatry, Frontiers in Public Health, and Archives in Medical Science), and has served on the Board of Directors of the American College of Epidemiology (ACE) and American Academy of Health Behaviors (AAHB). In addition to publishing his own work, Dr. Assari contributes extensively to the scientific peer review process and was recently ranked in the top ten scientists (of a group of 38,000 scientific reviewers) that perform scientific review in publons.com.
Thursday, December 22nd
Behnam Darvish – California Institute of Technology
Why Galaxies Stop Forming Stars
Postdoctoral Scholar in Physics at California Institute of Technology. Research interests:  formation and evolution of galaxies in dense environments (clusters, groups, filaments).
Friday, December 23rd
Martin Krieger – University of Southern California
Creativity and Newton
Martin Krieger's current work is on defense and military policy, and on uncertainty and ambiguity. He has done social-science informed aural and photographic documentation of Los Angeles, including storefront houses of worship and industrial Los Angeles. Professor Krieger has won three consecutive Mellon Mentoring Awards, for mentoring undergraduates, faculty, and graduate students. Professor Krieger has worked in the fields of planning and design theory, ethics and entrepreneurship, mathematical models of urban spatial processes, and has explored the role of the humanities in planning. His nine published books describe how planning, design, and science are actually done. Professor Krieger has been a fellow at the Center for Advanced Study in the Behavioral Sciences and at the National Humanities Center, and is a Fellow of the American Physical Society. He has received grants from a variety of foundations, and has served as the Zell/Lurie Visiting Professor of Entrepreneurship at University of Michigan's Business School. He joined the USC faculty in 1984. Professor Krieger often helps doctoral students, as well as undergraduates and masters students, focus and formulate their research projects.