The Academic Minute for 2016.11.28-12.02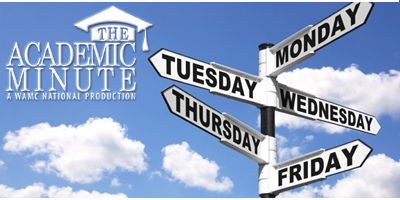 Academic Minute from 11.28 – 12.2
Monday, November 28th
Alison Phillips – Iowa State University
Exercise Routines and Intrinsic Rewards
Dr. Alison Phillips is an assistant professor in the Department of Psychology at Iowa State University and is director of the Healthy Habits Lab, where she conducts research regarding medication adherence, physical activity habits and other health-related habits. She has previously worked as a faculty member at the George Washington University in Washington, D.C., and earned her Ph.D. in social/health psychology from Rutgers University, in 2011. In 2015, the Association for Psychological Science named her one of the field's "Rising Stars". She has received funding from the PhRMA Foundation for her work regarding medication adherence and physical activity habits in patients with Type 2 Diabetes, and she has received funding from the Veterans Administration as part of a national team to study doctor-patient communication and veteran's self-management of medically unexplained syndromes.
Tuesday, November 29th
Abraham Palmer – University of California San Diego
Do These Genes Make Me Lonely?
My research examines the influence of genes on behavior and reflects my training in behavioral neuroscience, molecular biology, pharmacology and quantitative genetics. I am currently pursuing research projects that use mice, ratsand humans. A major focus of my work has been on developing and refining methods for genome wide association studies (GWAS) in model organisms and integrating these results with expression QTLs (eQTL) to identify specific and testable hypotheses about the role of genes in behavioral and other traits. My lab is currently studying several genes that we identified using these methods with the goal of gaining novel mechanistic and biological insights. My work in humans focuses on intermediate phenotypes, such as amphetamine sensitivity and delay discounting and seeks to use polygenic methods to examine overlap with psychiatric diseases and to translate findings between humans and model organisms in which these same traits can be examined.
Wednesday, November 30th
Russel Zwanka – SUNY New Paltz
Global Companies and Social Media
Dr. Russell J. Zwanka is a lecturer at SUNY New Paltz teaching courses in Category Management, Food Retail Management, Marketing Principles, Sales Management, and Marketing Strategy. Zwanka is currently CEO at Triple Eight Marketing, and previously taught in the Schools of Marketing and Management at Siena College in Albany, New York.  Before entering the academic world, he led the merchandising, marketing, advertising, procurement, and all customer engagement areas for multiple organizations in the United States and Canada.
Zwanka holds a Doctorate in International Business from the International School of Management in Paris, France. He also holds a MS in Management from Southern Wesleyan University, and a BS in Psychology from the University of South Carolina. Zwanka, the author of eight books, has spoken at various events, including the Carnegie Mellon Social Media Conference, the University of Manitoba Marketing Conference, the Argyle Executive Forum, and the Consumer Goods Forum.  Additionally, he has served on the IGA Retailer Advisory Board, the HVEDC Food and Beverage Alliance, the Consumer Goods Forum Marketing Committee, the HVCC Marketing Advisory Committee, the Topco Operations Board, and the Nielsen Retailer Advisory Committee.

Thursday, December 1st
Dwight DeWerth Pallmeyer – Widener University
Smartphones in the Classroom
Dwight DeWerth-Pallmeyer is an Associate Professor of Communication Studies at Widener University.  He served a director of the program from 1999 to 2014.  He has been teaching at the collegiate level since the mid 1980s.   Prior to that he served as a radio news director and reported frequently for both CBS radio and National Public Radio.   DeWerth-Pallmeyer is the author of the book, "The Audience In the News" and the producer of the documentary, "The Critics:  Stories from the Inside Pages."   He is currently producing his second feature documentary, "Cellular Aftershocks," a film that examines the unintended consequences of cell phone dependency/addiction.
Friday, December 2nd
Martin Krieger – University of Southern California
Academic Roadkill
Martin Krieger's current work is on defense and military policy, and on uncertainty and ambiguity. He has done social-science informed aural and photographic documentation of Los Angeles, including storefront houses of worship and industrial Los Angeles. Professor Krieger has won three consecutive Mellon Mentoring Awards, for mentoring undergraduates, faculty, and graduate students. Professor Krieger has worked in the fields of planning and design theory, ethics and entrepreneurship, mathematical models of urban spatial processes, and has explored the role of the humanities in planning. His nine published books describe how planning, design, and science are actually done. Professor Krieger has been a fellow at the Center for Advanced Study in the Behavioral Sciences and at the National Humanities Center, and is a Fellow of the American Physical Society. He has received grants from a variety of foundations, and has served as the Zell/Lurie Visiting Professor of Entrepreneurship at University of Michigan's Business School. He joined the USC faculty in 1984. Professor Krieger often helps doctoral students, as well as undergraduates and masters students, focus and formulate their research projects.