Jeff Blaustein, University of Massachusetts Amherst – Estrogens and Breast Cancer Survivors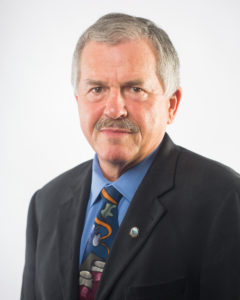 Tough decisions must be made about further treatment after breast cancer.
Jeff Blaustein, professor in the department of psychological and brain sciences at the University of Massachusetts Amherst, discusses the pros and cons of estrogen blockers and what women should know about this avenue of treatment.
Jeffrey D. Blaustein, Professor in the Department of Psychological and Brain Sciences at the University of Massachusetts, is the Founding Director of the Center for Neuroendocrine Studies.  He received his BS and PhD from UMass in 1973 and 1977, respectively.  After two years doing postdoctoral research at Rutgers University and a first job at Iowa State University, he returned to UMass in 1983.
Blaustein's research group has published over 150 scientific papers and reviews, and he has delivered many lectures on his research around the world.  He has served as Editor and Editor-in-Chief of Endocrinology, the journal of the Endocrine Society.  He is an editor of eNeuro, the open access journal of the Society for Neuroscience.  He is also on the Editorial Board of a variety of scientific journals, including Frontiers in Neuroendocrinology and Hormones and Behavior, and he is a former President of the Society for Behavioral Neuroendocrinology.
Estrogens and Breast Cancer Survivors

Breast cancer awareness month is over, but we can and should still talk about life after breast cancer.
Postmenopausal women, who have gone through the trauma of surgery for breast cancer, must ask themselves some very difficult questions about further treatment. 
Specific questions confront women who have had estrogen receptor-positive breast tumors—that is, women whose cancers respond to estrogens.
Should I take inhibitors of estrogens, such as tamoxifen, a drug that blocks the effects of estrogens in some parts of the body?
What about aromatase inhibitors, drugs that block the production of estrogens throughout the body?
What are the potential side effects?
Are the drugs necessary for women with a low risk of recurrence? 
These drugs have effects in all parts of the body, not just the breast. 
Although most women know that estrogens influence hot flashes and bone density, it may come as a surprise to learn that estrogens have many other positive effects on quality of life by their actions on the brain, including on depression, cognitive function, and libido.
Estrogens may also decrease the risk of developing Alzheimer's Disease.
Each woman must make the ultimate decision on whether to use estrogen blockers in consultation with her oncologist. 
However, an important consideration should be whether the positive effects on risk of recurrence of the breast cancer outweigh the potential negative effects of these estrogen blockers on the brain and quality of life.
The answer to that question will depend on each woman's individual situation, including her absolute risk of recurrence. 
To make an informed decision, breast cancer survivors should speak with an oncologist who is fully aware of the positive, as well as the negative, effects of estrogens. 
Only after a woman and her oncologist have considered ALL the consequences, should she make a decision about a treatment that may severely impact quality of her life.