The Academic Minute for 2016.09.12-09.16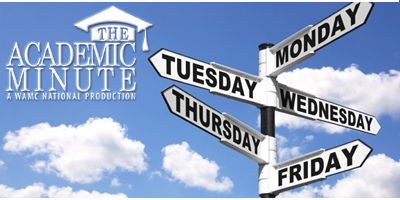 Academic Minute from 9.12 – 9.16
Monday, September 12th
Scott Campbell – University of Michigan
Solitude
Scott W. Campbell, PhD is Pohs Professor of Telecommunications and Associate Professor of Communication Studies at the University of Michigan. His research helps explain mobile communication behaviors and consequences. Campbell's work is published in Journal of Communication, Human Communication Research, Communication Monographs, Communication Research, New Media & Society, Mobile Media & Communication, and other venues. He has also co-edited two books (with Rich Ling) for the Mobile Communication Research Series and collaborated with the Pew Internet & American Life Project on a national study of teens and mobile communication. Campbell is an associate editor of Human Communication Research and serves on the editorial boards for Journal of Communication, Journal of Computer-Mediated Communication. New Media & Society, Mobile Media & Communication, Communication Reports, and Revista Chilena de Communicacion.
Tuesday, September 13th
Chuck Mitchell – University at Buffalo
Mass Extinction
Charles Mitchell is the SUNY Distinguished Teaching Professor and Director of Graduate Studies in the Department of Geology at the University at Buffalo. Broadly, his research seeks to understand the evolutionary processes that have formed the world in which we live and that have given shape to its history. He holds a Ph.D. from Harvard University."
The study was a partnership between Canisius College, the University at Buffalo, St. Francis Xavier University, Dalhousie University and The Czech Academy of Sciences.
Wednesday, September 14th
Mary Steffel – Northeastern University
Passing the Buck
Professor Steffel's research is at the interface of consumer behavior, social psychology, and judgment and decision making. She employs experimental research methods to examine when consumers call upon others to help them make decisions, identify the barriers to accurately gauging others' preferences and effectively choosing on their behalf, and determine how these barriers can be overcome. Her work has appeared in journals such as the Journal of Consumer Research, Journal of Personality and Social Psychology, Medical Decision Making, and Health Psychology. She teaches Consumer Behavior at the masters and undergraduate levels.

Thursday, September 15th
Jean Twenge – San Diego State University
Are Millennials More Sexually Active?
Jean M. Twenge, Professor of psychology at San Diego State University, is the author of more than 100 scientific publications and the books Generation Me: Why Today's Young Americans Are More Confident, Assertive, Entitled — and More Miserable Than Ever Before and The Narcissism Epidemic: Living in the Age of Entitlement (co-authored with W. Keith Campbell). Dr. Twenge frequently gives talks and seminars on teaching and working with today's young generation based on a dataset of 11 million young people. Her audiences have included college faculty and staff, high school teachers, military personnel, camp directors, and corporate executives. Her research has been covered in Time, Newsweek, The New York Times, USA Today, U.S. News and World Report, and The Washington Post, and she has been featured on Today, Good Morning America, CBS This Morning, Fox and Friends, NBC Nightly News, Dateline NBC, and National Public Radio. She holds a BA and MA from the University of Chicago and a Ph.D. from the University of Michigan.

Friday, September 16th
Julianna Jenkins – University of Missouri
Songbirds Face Risks Leaving the Nest
My dissertation work focused on understanding the transition between the nesting and postfledging life stages of Neotropical migrant songbirds on the breeding grounds. I worked with two interior forest nesting migrant focal species: the Ovenbird (Seiurus aurocapilla) and the Acadian Flycatcher (Empidonax virescens) in the fragmented forests of Central Missouri.
From 2010-11 I worked for the Wisconsin DNR as a Research technician for wetland biologist, Ron Gatti in Spring 2010, and as Assistant Upland Research Biologist under Dr. Scott Hull. Research projects included Greater Prairie Chicken monitoring, Sharp-tail Grouse monitoring and radio telemetry, grassland songbird nesting surveys, Blue-wing teal nesting surveys, and statewide pheasant roadside surveys. Additionally I was coauthor and support staff for the inter-agency publication, "Wisconsin Sustainable Planting and Harvest Guidelines for Nonforest Biomass".
In 2009 I interned with the International Crane Foundation (ICF), field ecology department. I was a field technician on sandhill crane research projects investigating juvenile crane habitat use and sandhill crane crop predation sponsored by ICF field ecology director, Jeb Barzen and crane research manager, Anne Lacy. I participated in extensive sandhill crane capture efforts in Wisconsin and Ontario, Canada that incorporated blood collection, morphologic measurements, and banding.
In the fall of 2008 I was a biologist intern at the Keauhou Hawaiian Bird Breeding Center in Volcano, Hawaii. I participated in daily care of endangered Hawaiian breeding birds: diet prep, aviary maintenance, behavioral enrichment, health checks, and daily behavioral observations.
During the summer of 2008 I worked for the Maria Mitchell Natural Science Museum, Nantucket Island, MA where I participated in research with Dr. Bob Kennedy including:  Barn Owl and Osprey banding and population monitoring, and Bay Scallop monitoring. I also participated in MA Audubon color band re-sighting and regional survey of common and roseate tern populations.
As an undergraduate at UW-Madison, I wrote and received funding ($5000) to conduct a summer research project in Costa Rica investigating the Spatial Ecology of the Margay, Leopardus wiedii in a Costa Rican Cacao Agro forest and participated in population monitoring of the Scarlet Macaw with Chris Vaughan, PhD.
.