The Academic Minute for 2016.07.04-07.08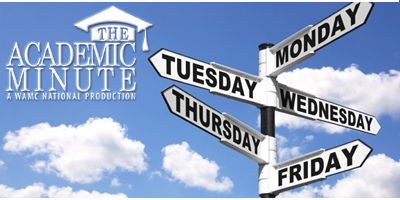 Academic Minute from 7.04 – 7.08
Monday, July 4th
Jeff Nesteruk – Franklin & Marshall College
Humanities and Business
Jeffrey Nesteruk is a Professor of Legal Studies at Franklin & Marshall College.  A graduate of the University of Pennsylvania Law School, he has written widely on corporate law, business ethics, and liberal education.  He has previously served as chair of the Department of Business, Organizations, and Society at Franklin & Marshall College and director of the College's Center for Liberal Arts and Society. In addition to his scholarly writing, he has contributed personal essays to such national publications as the New York Times, Christian Science Monitor, and Philadelphia Inquirer and such higher education venues as the Chronicle of Higher Education and Inside Higher Ed. He has been a visiting professor at the University of Michigan and has received a Dorsett Fellowship from the Institute for the Study of Applied and Professional Ethics at Dartmouth College. He has also served as a Zicklin Research Fellow at the Wharton School of the University of Pennsylvania. Most recently, he has been part of the Social Science Research Council's Measuring College Learning Project, coauthoring the Project's white paper on the future of the business major. He is currently leading a Teagle Foundation's study among Franklin and Marshall College, Bucknell University, and the Wharton School of the University of Pennsylvania examining how to bring liberal arts content, skills, and pedagogies to the study of business. Now in his 22nd year of teaching at F&M, he is enjoying his job as much as ever.
Tuesday, July 5th
Eric Taylor – University of Toronto
Human Perception
Eric is a post-doctoral research fellow in the department of psychology at the University of Toronto. His research explores the interactions between action, intention, and visual attention. He also teaches classes at the University of Toronto, specializing in visual cognition. Eric received his undergraduate degree in psychology (BSc) from the University of Western Ontario, and his doctoral degree from Purdue University. Eric is from Halifax.
Wednesday, July 6th
James Waller – Keene State College
Genocide
Dr. James Waller is the Cohen Professor of Holocaust and Genocide Studies at Keene State College (NH). Keene State College is home to the Cohen Center for Holocaust and Genocide Studies, one of the nation's oldest Holocaust resource centers, and also offers the only undergraduate major in Holocaust and Genocide Studies in the United States. Waller is a widely-recognized scholar in the field of Holocaust and genocide studies and, in addition to holding visiting professorships at the Technical University in Berlin (1990) and the Catholic University in Eichstatt, Germany (1992), has been an invited participant in international seminars hosted by the Stanley Burton Centre for Holocaust Studies at the University of Leicester in England (2006); the Institute of Sociology at Jagiellonian University in Krakow, Poland (2007 and 2008); the Bundeszentrale fur politische Bildung in Berlin, Germany (2009); the VU University Amsterdam in the Netherlands (2009); the University of Alberta in Canada (2010); and the Institute of Advanced Legal Studies in London (2011). Waller has been awarded summer fellowships by, and been a teaching fellow with, the Holocaust Educational Foundation at Northwestern University (1996 and 2007-2012) and at the Center for Advanced Holocaust Studies at the U.S. Holocaust Memorial Museum in Washington, D.C. (1999, 2003, and 2005). For spring 2017, he has been named Honorary Visiting Research Fellow at the Institute for the Study of Conflict Transformation and Social Justice at Queen's University in Belfast, Northern Ireland.
Thursday, July 7th
Janice Chism – Winthrop University
Saki Monkeys
Dr. Chism has carried out research on wild primate populations throughout the world including a four-year National Science Foundation Fellowship which supported a long-term study of the behavioral ecology of patas monkeys (Erythrocebus patas) in Kenya. While her research has taken her to Africa, the Caribbean, and South America, she also has studied mother-infant behavior in captive groups of primates and has combined field and laboratory techniques in several zoo-based studies. For the last 10 years she has worked in the Area de Conservatíon Regional Comunal de Tamshiyacu-Tahuayo (ACRCTT) in northeastern Peru. This is an area of high biodiversity which local residents have sought to preserve and manage. Chism and several of her Winthrop graduate and undergraduate students have worked on projects in this area to aid in efforts by local and international conservationists to protect the wildlife including the endangered red uakari monkeys. She is a scientific advisor for the Rainforest Conservation Fund, and she also carries out research locally on urban red fox populations. At present she is taking part in the national effort to identify all living species in the U.S. by helping direct the All-Taxa Biological Inventory being carried out in South Carolina State Parks.
Chism teaches a wide variety of courses in biology and biological anthropology and at the undergraduate and graduate level. Her current teaching assignments include graduate courses in "Theory and Method in Biology" and "Advanced Topics in Ecology/Evolutionary Biology." She also teaches "Primate Biology," "Human Ecology," "Principles of Biology", "Conservation Biology", and (with co-teacher Dr. Bill Rogers) "Field Conservation Biology in the Tropics". She participates in the core commitments by teaching the Human Experience course, and also acts as an adviser to biology students wishing to pursue the Conservation Biology track within the major.
Friday, July 8th
Kerry Dean Corso – SUNY New Paltz
Gothic Revival
Kerry Dean Carso is chair and associate professor of art history at the State University of New York at New Paltz, where she teaches courses on American art and architecture.  Her research focuses on interconnections between the arts and literature in the nineteenth-century United States.  She is the author of American Gothic Art and Architecture in the Age of Romantic Literature (University of Wales Press, 2014), winner of the 2015 Henry-Russell Hitchcock Award from the Victorian Society in America.  She has also published several articles on Gothic Revival architecture and Romantic painting in peer-reviewed journals including Mosaic, Winterthur Portfolio, Symbiosis, The Hudson River Valley Review and Gothic Studies.  Her essay on architecture in Hudson River School paintings appeared in the exhibition catalogue for The Hudson River to Niagara Falls: Nineteenth-Century Landscape Paintings from the New-York Historical Society (2009) at the Dorsky Museum of Art on the SUNY New Paltz campus.  Professor Carso also published an essay "Man and Nature in the Hudson Valley" in the exhibition catalogue Russel Wright:  The Nature of Design (Dorsky, 2012) and an essay for the catalogue Jervis McEntee: Painter-Poet of the Hudson River School (Dorsky, 2015).  In fall 2014, she co-edited with Thomas Wermuth an issue of The Hudson River Valley Review on "Painters, Writers, and Tourists in the Nineteenth Century" and contributed an essay to the volume.