The Academic Minute for 2016.06.27-07.01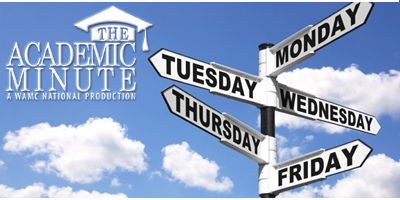 Academic Minute from 6.27 – 7.01
Monday, June 27
Fred Butcher – Case Western Reserve University
Trauma in Youth
Fredrick Butcher, Ph.D is a Research Associate with the Begun Center for Violence Prevention Research and Education at Case Western Reserve University's Jack, Joseph, and Morton Mandel School of Applied Social Sciences.
Dr. Butcher's research areas include youth violence, trauma, juvenile justice, and measurement in criminal justice research. His work often focuses on children and adolescents in areas ranging from young people in the juvenile justice system to the effects of exposure to violence (either directly as a victim or indirectly as a witness at school, as is widely reported.)
His writing has been published in a number of journals including Research on Social Work Practice, Law Enforcement Executive Forum, Police Practice and Research, and Criminal Justice Policy Review.
Fred recently co-authored a 200+ page report for the State of Ohio on the Behavioral Health and Juvenile Justice (BHJJ) program.
Tuesday, June 28
Victor Sojo – University of Melbourne
The Risk of Everyday Sexism at Work
Dr Victor Sojo is a Post-doctoral Research Fellow and the Research Manager of the Centre for Ethical Leadership (CEL) at the University of Melbourne, Australia. His main area of research is risk and protective factors affecting the fit, functioning, and growth of women in occupational contexts. Dr Sojo is also an Honorary Fellow at the Melbourne School of Psychological Sciences and a Lecturer at the Australian Catholic University, in the subjects of Psychometrics and Organisational Psychology.
Dr Sojo completed his PhD in Psychology at the University of Melbourne working on human resilience to stress, positive emotions, and health. He has a Master of Science in Health Psychology and a Bachelor of Science in Industrial / Organisational Psychology (Magna Cum Laude).
Wednesday, June 29
Robin Kowalski – Clemson University
Cyberbullying
Dr. Robin Kowalski is a professor of psychology at Clemson University. She obtained her Ph.D. in social psychology from the University of North Carolina at Greensboro. Her research interests focus primarily on aversive interpersonal behaviors, most notably complaining, teasing and bullying, with a particular focus on cyber bullying. She is the author or co-author of several books including Complaining, Teasing, and Other Annoying Behaviors, Social Anxiety, Aversive Interpersonal Behaviors, Behaving Badly, The Social Psychology of Emotional and Behavioral Problems, Cyber Bullying: Bullying in the Digital Age. Her research on complaining brought her international attention, including an appearance on NBC's "Today Show." Dr. Kowalski has received several awards including Clemson University's Award of Distinction, Clemson University's College of Business and Behavioral Science Award for Excellence in Undergraduate Teaching, the Phil Prince Award for Excellence and Innovation in the Classroom, Clemson University's College of Business and Behavioral Science Senior Research Award, and the Clemson Board of Trustees Award for Faculty Excellence. She was also recently named by Princeton Review as one of the best 300 professors in the nation, and was selected as a finalist for the 2013 and 2014 South Carolina Governor's Professor of the Year AwardsThursday,
June 30
Martin Krieger – University of Southern California
Sounds of the City
Martin H. Krieger is professor of planning at the Sol Price School of Public Policy at the University of Southern California. He is trained as a physicist, and has taught in urban planning and policy at Berkeley, Minnesota, MIT, Michigan, and USC. His nine books are about mathematical modeling, environmental policy, and about theories of planning and design. He has been a fellow at the Center for Advanced Study in the Behavioral Sciences and at the National Humanities Center. He is a Fellow of the American Physical Society.
Friday, July 1
Leanne ten Brinke – University of California Berkeley
Virtues, Vices and Political Influence
Leanne ten Brinke, Ph.D. is a Banting Postdoctoral Fellow in the Haas School of Business and Department of Psychology at UC Berkeley. She received her doctoral degree from the University of British Columbia (UBC) in 2012, examining the behavioral consequences of emotional, high-stakes deception. In addition, Leanne has conducted research at the London Business School and Dalhousie University. Her research is focused on social cognition, broadly, and the paradox of trust, in particular. That is, if determining whom to trust is so important, why does decades of research suggest that the accuracy of these decisions is so poor? She has published articles in leading academic journals addressing this question, and has received national and international media attention for her work. She was born and raised in Antigonish, Nova Scotia.