Anthony Corbeill, University of Kansas – Gender in Rome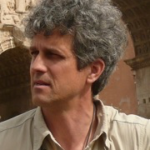 Why are some objects described as feminine and other masculine?
Anthony Corbeill, Professor of Classics at the University of Kansas, delves into this question and whether things are changing.
Anthony Corbeill is a Professor of Classics at the University of Kansas. His research focuses on classical languages, Roman literature and cultural history. He has published three books, including his most recent one Sexing the World: Grammatical Gender and Biological Sex in Ancient Rome (Princeton University Press 2015), which explores relationships between grammatical gender and Latin poetry, archaic gods, and hermaphrodites. He has also published on ancient sexuality, education, and Latin poetry. Corbeill has held fellowships at the Thesaurus Linguae Latinae in Munich, Germany (a comprehensive dictionary of the Latin language), the American Academy in Rome, the Institute for Research in the Humanities (Madison), and All Souls College (Oxford).
Gender in Rome

Have you heard the riddle about the boy who was injured in a car accident that killed his father?
When the boy is taken to the hospital and rushed to emergency surgery, the surgeon says:  "I can't operate on this boy. He's my son."
This riddle was featured in a 1972 episode of the sitcom "All in the Family." It stumped many characters throughout the episode, and only at the end is the solution revealed: the surgeon is the boy's mother.
This riddle was meant to expose the false perception that the sex of a surgeon is, by default, male and not female.
When I tell this riddle to my students, I've found that over the years it stumps fewer and fewer. In fact, some reply that the surgeon is the boy's "other father."
The history of this riddle gives insight into something called linguistic determinism, or the notion that the ways in which we use our language has a direct bearing on how we perceive the world around us.
In researching ancient Rome, I concentrate in particular on how Latin speakers understand grammatical gender, by which Latin organizes objects and aspects of society into sexual categories.
For example, Latin speakers assign words to one particular gender — the masculine noun oculi describes eyes, whereas the feminine word árbores is used for trees. Moreover, nearly all abstract ideas in Latin and other Indo-European languages are feminine, a phenomenon that has yet to receive adequate explanation.
Now, everybody knows that ancient Rome was a hyper-masculine society, but my research shows how the daily use of grammatical gender also helps reinforce notions of the behavior of men and women.
The way we use our language day to day certainly affects how we perceive the world and people around us.  But the lesson of the riddle about the surgeon is that this tyranny of linguistic gender can, sometimes, be overthrown.
. 
Read More:
Sexing the World:
Grammatical Gender and Biological Sex in Ancient Rome
Book reconstructs how grammar was assigned gender in ancient Rome