The Academic Minute for 2016.2.15-2.19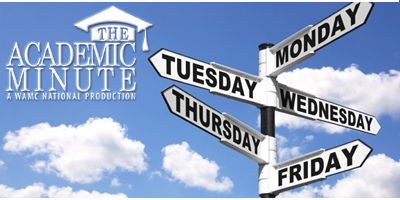 Academic Minute from 2.15 – 2.19
Monday, February 15
Dylan Minor – Harvard Business School
Toxic Workers
Dylan Minor is a visiting Assistant Professor of Business Administration at Harvard Business School, where he teaches a first year MBA course in Strategy. Professor Minor's research interests originated from his professional involvement in socially responsible investing. He was formerly an investment consultant for Morgan Stanley, and is the founder of Omega Financial Group. His current work focuses on the nexus between organizational design and social and ethical issues.
Tuesday, February 16
Emily Lescak – University of Alaska Anchorage
Evolutionary Timescales
Dr. Emily Lescak is a postdoctoral fellow at the University of Alaska Anchorage. She uses threespine stickleback fish as a model organism to study contemporary evolution in the wild and host/microbe interactions.
Wednesday, February 17
Tobin Porterfield – Towson University
Unlocking The Mysterious Isle
Professor Porterfield specializes in B2B supply chain relationships and comes to the Towson University faculty with many years of teaching and field experience. His courses include operations management, project management, supply chain management, business strategy, and information technology.
Thursday, February 18
Leslie Knapp –  University of Utah
Howler Monkey Calls
My research focuses on major histocompatibility complex (MHC) genes, which are critical for immune response. I aim to determine how MHC genes vary in humans and primates and to understand how MHC diversity is generated and maintained via disease resistance, sexual selection, inbreeding avoidance and reproductive failure, which has implications for understanding evolution and life history. I also study genetic and hormonal factors related to female life history.
Friday, February 19
Haley Horstman – University of Missouri
Storytelling Between Mothers and Daughters
Dr. Haley Kranstuber Horstman researches communicated sense-making in the context of family diversity and difficulty. She grounds much of her work in narrative theorizing and methodology. Dr. Horstman often studies diverse families as a context ripe with sense-making, including adoptive families, foster families, and married couples struggling with miscarriage, as well as mother-daughter and parent-child contexts.
Currently, Haley is exploring mothers and daughters' narrative sense-making, storytelling in foster families, family communication patterns, and adoptees' identity work. She is also working on several grant-funded projects studying married couples' communication following miscarriage, communication in open adoptive families, and the perceptions of doulas in American births. Haley's work has been published in major peer-reviewed journals such as Communication Monographs, Journal of Applied Communication Research, Health Communication, Journal of Family Communication, Communication Education, Communication Quarterly, and Journal of Social and Personal Relationships. She has worked under several community grants as a consultant on family communication issues in public health interventions. Haley currently serves as secretary for the Family Communication division at National Communication Association (NCA), Media Contact on parent-child communication for NCA, and a board member for Journal of Family Communication.
During her graduate work at the University of Nebraska-Lincoln, Dr. Horstman was awarded the Outstanding Graduate Student Research Award, Outstanding Graduate Student Teaching Award, Phyllis Japp Scholar Award, Centennial Fellowship from the Department of Communication Studies, and an Honorable Mention for the UNL Office of Graduate Studies Outstanding Graduate Research Assistant Award. She has also received several Top Paper Awards for her work at NCA and Central States Communication Association Conferences. Along with Dr. Colleen Colaner, Haley is a founder and co-director of the Institute of Family Diversity and Communication (www.ifdc.missouri.edu), an interdisciplinary working group of researcher examining issues facing modern families.