The Academic Minute for 2016.1.18-01.22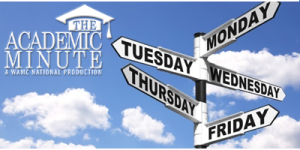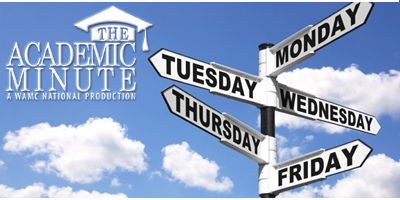 Academic Minute from 1.18 – 1.22
Monday, January 18
Adam Arenson – Manhattan College
After The Underground Railroad
Adam Arenson is an associate professor of history and the director of the urban studies program at Manhattan College. He is a historian of the cultural and political history of slavery, Civil War, and Reconstruction, as well as American cities throughout time, especially in the American West and on American borders. He is the author of the award-winning The Great Heart of the Republic: St. Louis and the Cultural Civil War (Harvard, 2011; paperback Missouri, 2015) and co-editor of Frontier Cities: Encounters at the Crossroads of Empire (Pennsylvania, 2013), and Civil War Wests: Testing the Limits of the United States (California, 2014), which was accompanied by a museum exhibition. He has also published a half-dozen articles, including pieces on Dred Scott's family and Anglo-Saxonism in the Yukon Territory. See more about his varied projects, from the digital reconstruction of African North American communities to Los Angeles art and architecture, at http://adamarenson.com
Tuesday, January 19
John Christian – West Virginia University
Space Optical Navigation
Dr. John Christian is an aerospace engineer with expertise in spacecraft navigation and space systems. He is presently an assistant professor in the Department of Mechanical and Aerospace Engineering in the Benjamin M. Statler College of Engineering and Mineral Resources at West Virginia University where he directs a research program focused on spacecraft relative navigation, attitude estimation, and spacecraft design. Prior to joining WVU's faculty, Christian worked as an engineer in the Guidance, Navigation, and Control Autonomous Flight Systems Branch at the NASA Johnson Space Center in Houston, TX. He has experience with navigation system design, flight tests of relative navigation sensor hardware (STORRM experiment on STS-134), parachute drop tests, Inertial Measurement Unit data processing, system requirements definition, and space systems analysis.  He holds a BS and MS in aerospace engineering from the Georgia Institute of Technology and a Ph.D. in aerospace engineering from the University of Texas at Austin.
Wednesday, January 20
Peter Polos – Seton Hall University
Teen Smartphone Use at Night
Dr. Peter Polos, MD, PhD, FCCP, FAASM, is a graduate of Louisiana State University School of Medicine in New Orleans, and is board certified in pulmonary and sleep medicine. He is Clinical Associate Professor, Dept. of Neuroscience, Seton Hall University School of Health and Medical Sciences; Attending Staff at the Sleep Medicine Division of the JFK Neuroscience Institute; and Founder and President of Global Clinical Consulting. His areas of expertise and interest include pulmonary and sleep medicine, clinical trial design and implementation, an active clinical practice and, of course, teaching. He holds a PhD in microbiology and immunology. Dr Polos is the author of over 30 publications and has presented clinical and scientific data at congresses and symposia around the world.
Thursday, January 21
Anne Bowers – University of Toronto
Value of Diamonds
Anne Bowers is an Associate Professor of Strategic Management at Rotman. Her primary research interest include how classification shapes market outcomes, particularly the impact of rating systems, market categories and social categories on organizational performance. In a second stream of research, she studies how information flows among market intermediaries, and how their non-market strategies affect the overall level of information available to the market at large. Research settings include the financial services sector (equity research, relationship banking) as well as online marketplaces, such as eBay.
Friday, January 22
Brick Johnstone – University of Missouri
Empathy and Sense of Self
Johnstone recently returned from Oxford University, where he spent the summer studying the intersection of science and religion. Prior to his time at Oxford, Johnstone completed a nine-month fellowship at the Center of Theological Inquiry in Princeton, New Jersey, where he explored religious experience and moral identity. Johnstone recently served as a contributing expert for a Centers for Disease Control and Prevention report, "Traumatic Brain Injury in the United States: Epidemiology and Rehabilitation," which was presented to Congress.