Cristine Legare, University of Texas at Austin – Imitation and Innovation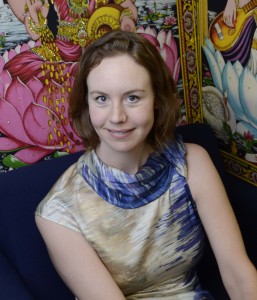 Does imitation lead to innovation?
Cristine Legare, associate professor of psychology at the University of Texas at Austin, discusses these dual engines of cultural learning.
Cristine Legare is an associate professor of psychology and the director of the Cognition, Culture and Development Lab at The University of Texas at Austin. As a cognitive scientist, her research examines the evolution and development of cognition and culture.
Legare studies the interplay of the universal human mind and the variations of culture to better understand cognitive and cultural evolution. Much of her research has been conducted in southern Africa, though she is currently conducting fieldwork in Brazil, China and Vanatu. Her work, which draws on insights from psychology, anthropology and philosophy, has appeared in a number of journals, such as Developmental Psychology, Cognition, and Evolution and Human Behavior.
In 2016, Legare was recognized for her early and continued contributions to the field of developmental psychology, receiving both the American Psychological Association's Boyd McCandless Award and the Association for Psychological Science's Janet Taylor Spence Award for Transformative Early Career Contributions.
Imitation & Innovation

Humans are psychologically prepared to learn from others.  
In fact, we display a wider and more diverse repertoire of socially acquired and transmitted behaviors than any other species. Social learning allows us to build upon our cumulative cultural heritage and has set us on a unique evolutionary pathway.
Humans have a remarkable capacity for cumulative cultural transmission. Innovations in behavior build on each other. They are progressively incorporated into a group's set of skills and knowledge.
Cumulative culture requires passing on both instrumental skills and social conventions such as rituals to future generations. Instrumental skills are the technological toolkits of social groups. They allow group members to perform tasks required for survival and success.      
Rituals such as greetings like handshakes and bowing, increase cohesion and cooperation among group members.
The unique demands of acquiring instrumental skills versus rituals provide insight into how imitation and innovation are used in tandem as dual engines of cultural learning.
My research examines how children flexibly respond to and learn both kinds of behavior.
Whereas learning an instrumental skill allows for variability and innovation in methods of execution, learning rituals requires close conformity to the way other group members perform the actions through high-fidelity imitation.
The use of imitation and innovation requires early-developing cognitive flexibility. Social learning enables children to acquire the cultural tools and knowledge of previous generations and to become members of diverse cultural communities.