The Academic Minute for 2015.10.05-10.09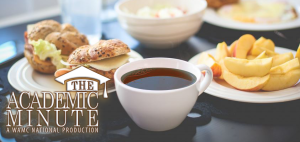 Catch up with The Academic Minute from 10.05 – 10.09
Monday, October 5
Jonathan Willner – Oklahoma City University
Sports Economics
Dr. Jonathan Willner received his BA in Economics from Colorado State University in 1990 and his Ph.D. in Economics from Purdue University in 1994. Originally a trade theorist, he switched to empirical research in the early 2000s, about the same time he became interested in the economics of sports.
Tuesday, October 6
Richard Pak – Clemson University
Technological Trust
Richard Pak is human factors psychologist at Clemson University. His research examines the relationship between humans and automated technologies such as medical devices, fitness trackers, and in the future self-driving cars.
Wednesday, October 7
Brianna Mount – Black Hills State University
Dark Matter
Dr. Brianna Mount is a research assistant professor in physics at Black Hills State University. She received her PhD from Florida State University. Her current research centers around underground science, particularly at the Sanford Underground Research Facility in Lead, SD.
Thursday, October 8
Jos Lelieveld – Mainz University
War and Air Quality
Born on July 25, 1955 in The Hague. Study of natural sciences Leiden Univ. (1984), research associate at Geosens B.V. (1984-1987), research scientist at the Max Planck Institute for Chemistry (1987-1993), PhD in Physics and Astronomy Utrecht Univ. (1990), Professor of Atmospheric Physics and Chemistry Univ. of Wageningen and Utrecht (1993-2000), Director and Scientific Member at the Max Planck Institute for Chemistry (since 2000), Professor in Atmospheric Physics, University of Mainz.
Friday, October 9
Brian Obach – SUNY New Paltz
Organic Farming
Brian Obach is a Professor of Sociology and the Director of the Environmental Studies program at SUNY New Paltz. Brian Obach conducts research on social movements, the environment, sustainable agriculture, and political economy.