Douglas Bruster, UT Austin – Shakespeare's Brand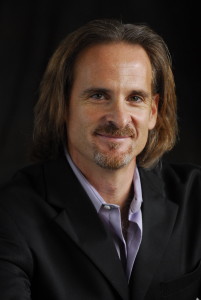 We're still making discoveries about Shakespeare!
Douglas Bruster, a professor of American and English literature at The University of Texas at Austin, presents his research into Shakespeare's brand.
Douglas Bruster's research centers on Shakespeare, drama, and literary history. His discoveries have been featured in such venues as The New York Times and National Public Radio. His books on Shakespeare and early modern drama includeDrama and the Market in the Age of Shakespeare, Quoting Shakespeare, Shakespeare and the Question of Culture, Prologues to Shakespeare's Theatre, To Be or Not To Be and Shakespeare and the Power of Performance. He is editor of Thomas Middleton's The Changeling, the morality plays Everyman and Mankind, and A Midsummer Night's Dream. In addition to the University of Texas, he has taught at Harvard University, the University of Chicago, and the University of Paris.
Shakespeare's Brand

When Shakespeare first arrived on the scene, he had a little help. His two early poems were printed in London by an old friend from Stratford-on-Avon named Richard Field.
My research has discovered something about these books that's been staring at us—literally staring at us—for over four hundred years.
If you were holding these books at the time, you'd see not only a female name in large print—"Venus" and "Lucrece"–but also something very striking: a beautiful printer's ornament with a woman's face surrounded by flora and fauna. I've found out that Field's ornament was not only French in origin and style, but became associated with Shakespeare owing to these best-selling books of poetry. We could call it the Elizabethan Shakespeare brand.
Now, one of the best pieces of evidence for this brand function comes from yet another Stratford boy named Thomas Greene. Greene tried to make it as a poet in London. Unfortunately, he didn't have Shakespeare's talent, but his book of poetry used the same ornament so that it would look like Shakespeare's first two books. Later, Greene would live with the Shakespeares in Stratford, and actually named his children "Will" and "Anne."
Why does this matter? It tells us that Shakespeare was important in Elizabethan London earlier than we've thought, and that his first two books of poetry were much more influential than we knew. It also tells us that, while we're used to thinking about Shakespeare as a writer who painted pictures with words, those words put on their best face with the help of a friend, and with the smile of a gorgeous picture, also in ink.
Read More: UT News: Shakespeare's Brand Identified