Diane Beauchemin, Queen's University – Hair Sample Forensic Advances
Criminals better start wearing hairnets!
Dr. Diane Beauchemin, a chemist at Queen's University in Canada, is furthering forensic hair identification techniques.
Diane Beauchemin studied at l'Université de Montréal where she obtained a B.Sc. in 1980, followed by a Ph.D. in 1984 under the supervision of Joseph Hubert. She then became a Research Associate in the (then) Chemistry Division of the National Research Council of Canada where she worked until she joined the Department of Chemistry at Queen's University in 1988 as an Assistant Professor. She was promoted to Associate Professor in 1993 and to Full Professor in 2001.
She has been working on inductively coupled plasma (ICP) spectrometry since the early 1980's and is arguably the most experienced academic researcher in this area in Canada. Her research on improving this technique and expanding its range of applications to, for instance, geochemical exploration, risk assessment of food safety, and forensic analysis, has resulted in several industrial contracts, in addition to industrial sponsorships of all her sabbatical leaves and industrial positions for her students. Most recently, she developed a new forensic analysis method that allows the identification of gender and ethnicity from the quick multi-elemental analysis of head hair, which attracted considerable media attention.
In addition to several awards (Alan Date Memorial Award in ICP-MS, Maccoll Prize, NSERC Senior Industrial Fellowship, Distinguished Service Award from the Spectroscopy Society of Canada), her research has resulted in some 95 peer-reviewed papers, 1 book, 5 book chapters, 8 invited reviews, 8 invited book reviews, 71 invited conference presentations, 22 invited seminar presentations, 1 patent application and 125 contributed conference presentations.
Hair Sample Forensic Advances

We have developed a new technique to quickly infer gender and ethnicity from hair left at crime scenes.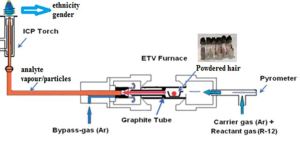 Unlike DNA testing, it does not allow identification of an individual.  However, it can narrow down the number of suspects in the many cases where there is no DNA match.  The approach involves washing and drying the hair, grinding it and then placing it in a small furnace, which vaporises it into a multi-element analyser. 
Application of statistical analysis to the multi-element data from thirteen hair samples collected from mostly students in Kingston, Ontario, Canada identified the elements allowing prediction of gender and ethnicity.
The relative proportions of magnesium, sulfur, strontium and zinc in hair were sufficient for accurate prediction of gender from thirteen duplicate hair samples.
Nine elements, which included sulfur, strontium and zinc, were sufficient to distinguish East-Asians, South-Asians and Caucasians. 
The greater number of elements required to identify ethnicity is commensurate with the larger number of possibilities than for gender.  The approach was applied to two blind samples from people living in Montreal and Sudbury, which are as far as 430 km away from where the samples used to build the prediction model were collected.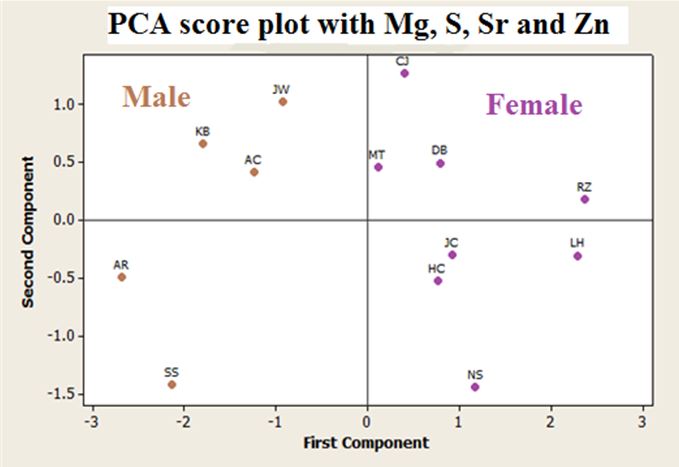 It correctly predicted, with 100% accuracy, that they were both Caucasian males. 
The beauty of the approach is that it only requires four milligrams of hair and is very quick, as the vaporisation step in the small furnace only takes eighty-five seconds. 
In the future, we will expand the study to refine the technique so as to identify the specific ethnicity (for instance, Japanese, Chinese, Korean, etc. instead of just East-Asian).
Indeed, we have been approached not only by forensic laboratories but also by an industry making hair products, as ethnicity affects interaction of such products with hair.
These encouraging results are merely the beginning.
 Read More: Chemistry World: Hair elements distinguish ethnicity and gender