Susan Meschwitz featured on The Best of Our Knowledge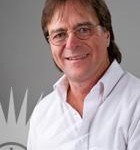 As always, host Bob Barrett selects an Academic Minute to air during The Best of Our Knowledge.
Each week this program examines some of the issues unique to college campuses, looks at the latest research, and invites commentary from experts and administrators from all levels of education.
---
For this week's edition, Bob has selected Dr. Susan Meschwitz's (Salve Regina University) segment on the antibiotic power of honey.
Dr. Susan Meschwitz is an Assistant Professor of Chemistry at Salve Regina University in Newport, Rhode Island. She received her Ph.D. in Organic Chemistry from Brown University and went on to a postdoctoral fellowship in Biological Chemistry and Molecular Pharmacology at Harvard Medical School. Her research interests focus on discovering compounds capable of inhibiting the bacterial communication system known as quorum sensing, with the long-term objective of providing potential new leads in the development of anti-infective agents. She is a member of the American Chemical Society and the American Society of Pharmacognosy.

Listen to The Best of Our Knowledge on WAMC.org or any of its carriage stations.