Dr. Dennis O'Rourke featured on The Best of Our Knowledge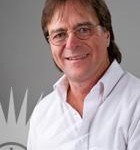 As always, host Bob Barrett selects an Academic Minute to air during The Best of Our Knowledge.
Each week this program examines some of the issues unique to college campuses, looks at the latest research, and invites commentary from experts and administrators from all levels of education.
---
For today's edition, he's picked Dr. Dennis O'Rourke's segment: Life on the Bering Land Bridge.
Dr. Dennis O'Rourke is a professor in the Department of Anthropology at the University of Utah. His areas of interest include: population and evolutionary genetics, ancient DNA analysis, quantitative methods, native America, Arctic regions and Siberia. Current work involves the Ancient DNA Research Projects and Lab. He earned a PhD from the University of Kansas in 1980.
Listen to The Best of Our Knowledge on WAMC.org or any its carriage stations.