Lawrence Sherman, University of Cambridge – Domestic Violence and Arrests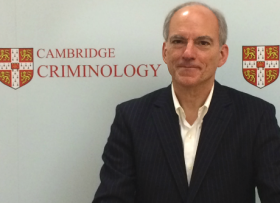 Are strict police codes having unintended effects?
Dr. Lawrence Sherman, professor of criminology at the University of Cambridge, examines the nature of certain law enforcement practices.
Dr. Lawrence Sherman is the Director of the Institute of Criminology of the University of Cambridge, where he has served as Wolfson Professor of Criminology since 2007. He has focused his research on the best methods of policing homicide, gun violence, domestic violence, robbery, burglary, and other crime problems. Dr. Sherman is also the director of both the Jerry Lee Centre for Experimental Criminology and the Cambridge Police Executive Programme. He earned his PhD from Yale University in sociology in 197
Dr. Lawrence W. Sherman – First: Do No Harm
For centuries, doctors have taken the Hippocratic oath to their patients: first, do no harm. Most police officers would say they pledge the same thing to crime victims. But what should we say when there is evidence that some victims are more likely to die young from natural causes if police arrest their criminals rather than just giving the offenders a warning?
In the late 1980s, the Milwaukee Police Department conducted a randomized clinical trial of the use of arrest in over a thousand cases of domestic assaults with no serious injuries.
After 23 years, our followup study found that victims whose partners had been arrested were 64% more likely to have died than those whose partners had NOT been arrested. These deaths were from natural causes, not violence. For African-American victims, the rate of such death was almost 100% higher for those whose partners had been arrested. For victims who had jobs, the death rate was 300% higher if their partner had been arrested.
 Because most states have laws that require police to make arrests for domestic violence, they prevent police from testing what may be better ideas. Alternatives to mandatory arrest could include alcohol abuse treatment, extended family conferences, or restoring to police the discretion to arrest they once possessed. Imagine if doctors were required by law to use surgery, and not allowed to test chemotherapy as an alternative?
Policing deserves no less flexibility to find better ways to keep their own oath to first, do no harm.