Christopher Fee, Gettysburg College – What a Living Wage Looks Like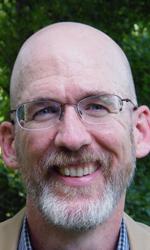 Economic inequality and minimum wage are becoming increasingly discussed topics during these turbulent economic times.
Chris Fee, professor of English at Gettysburg College, asks what constitutes a living wage?
Dr. Christopher Fee is a professor and chair of the Department of English at Gettysburg College. Fee has published numerous articles and has given conference presentations on many interdisciplinary topics. He earned his PhD in English at the University of Glasgow.
Christopher Fee, Gettysburg College – What a Living Wage Looks Like
What is a "livable wage," and should we strive to raise wages for American workers?
There are lots of conflicting studies and reports. The Congressional Budget Office projects that an increase in the minimum wage from $7.25 an hour to $10.10 an hour would eliminate 500,000 jobs while raising the incomes of nearly 17 million Americans.
Even prominent economists like David Card and David Neumark diametrically disagree on the likely consequences of raising the minimum wage, and their studies of results in New Jersey have consistently yielded conflicting results for decades. More recently, further experience in states such as Washington seem to belie fears that raising wages costs jobs. Furthermore, contrary to the argument that a wage hike would hurt small business, a recent survey shows small business owners support an increase.
Finally, data shows that increasing the minimum wage would cost consumers much less than some predict, probably on the order of a little more than $10 a year for the average shopper.
According to the MIT Living Wage Calculator, a single adult working full-time in my rural Pennsylvania county would need to earn at least $8.25 an hour to get by; the minimum wage is $7.25. For a family of four with one adult working full-time, $16.83 an hour would be a livable wage. In an urban center such as Philadelphia, the livable wages would of course be higher: $10.09 for a single adult and $19.64 for a family of four.
The fact is that many Americans struggle to get by on far less than the minimum wage, and my students and I often meet such "working poor" folks in our local soup kitchen and homeless shelters. Research suggests that raising the minimum wage could offer millions of workers a step in the direction of financial independence.
Gettysburg College's Medieval Drama Plays